HOW THE NIMMO TECHNIQUE WORKS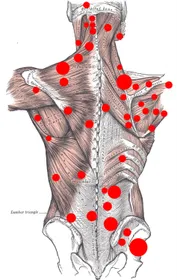 Dr. Rubanenko, DC is certified in a unique trigger point release therapy called NIMMO. NIMMO is a trigger point therapy treatment that offers chronic pain relief. NIMMO goes beyond the treatment of symptoms to eliminate the cause of pain, promoting healing and preventing recurrence.
THE PAIN CYCLE
Trauma — Chronic pain can be caused from any type of injury, or recurring motions.

Protective Reaction — The nervous system responds by sending an impulse to the muscles around the area of injury, causing them to tighten. Muscles tighten and create a network of tension areas known as "trigger points".

Repetition — These protective impulses are helpful while the injury heals, but the body learns through repetition. The nervous system does not sense healing and continues to send protective impulses, causing unnecessary muscle tension.

Chronic Discomfort — This constant tightening creates a cycle of pain. The pain stays until the protective impulses are interrupted.
DR. RUBANENKO'S SOLUTION
Isolate the Pain — Finding the source of chronic pain requires expert knowledge of the:
Muscle System

Nervous System

Skeletal System
Dr. Rubanenko understands the relationships between these systems, allowing her to to target the source of pain.
Apply Specific Pressure — Dr. Rubanenko uses pressure to relieve trigger points, which restores joint function.

Break the Cycle — The resolution of the trigger points allows for relaxation and pain relief, as well as prevention from re-injury.

Design a Program of Recovery — Dr. Rubanenko goes beyond pain relief by setting up treatment plans which include lifestyle and follow-up plans.
Nimmo treatment provides relief for a large spectrum of conditions, including, but not limited to:
Low Back Pain

TMJ

Carpal Tunnel Syndrome

Stiff Neck

Rotator Cuff

Disc Pain

Back & Shoulder Pain

Arm, Wrist & Hand Pain

Thigh, Knee, Ankle & Foot Pain

Facial, Head & Neck Pain

Tendonitis